Montana Companies We Love: Kathy Burk
by Gillette Vaira
October 14, 2020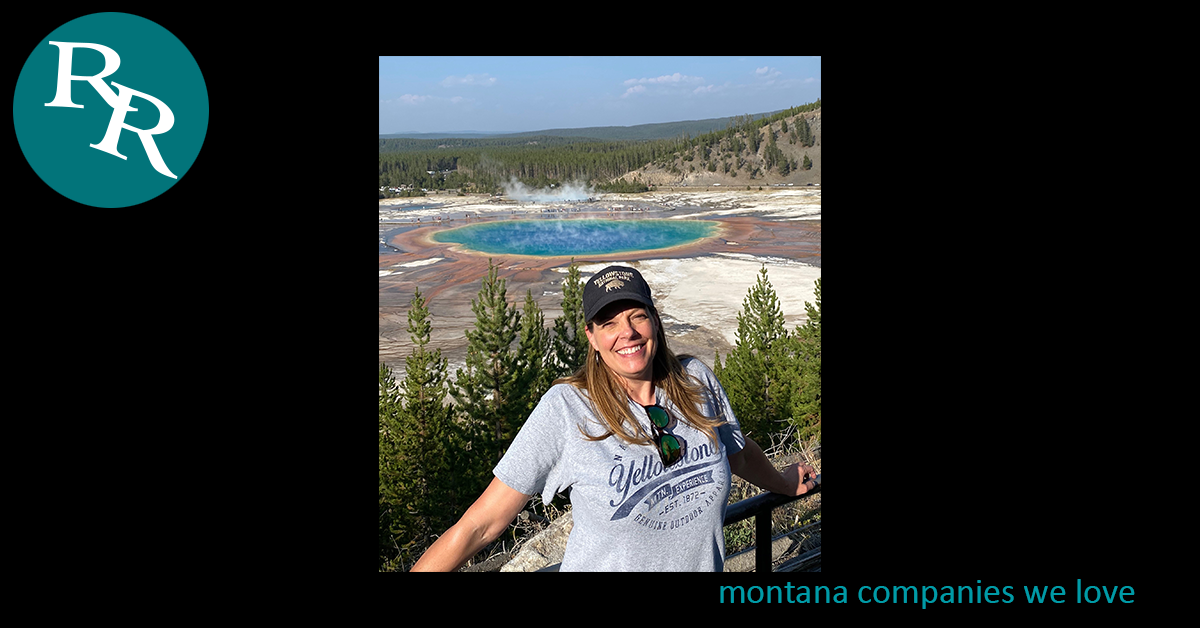 Kathy Burk remembers visiting Yellowstone National Park for the first time at age five, where she was captivated by the architecture of the Old Faithful Inn, the bubbling thermal features, and the colorful pools. Little did she know that decades later, this mesmerizing place would become a passion in her life – and the inspiration for her artistry.
Artistic impressions
Kathy said she believes her early impressions of the Old Faithful Inn inspired her to pursue interior design and architecture as an adult. She earned a degree and worked in the field for several years, but she realized she wanted to put her artistic talents to use in a different way. As a result, she decided to design a glass lamp for her home.
"I still use this lamp," she said. "I leave it on 24 hours a day. It becomes a night light."
Then she ventured into a stained glass store to learn how to fuse glass for another lamp shade, which led to a powerful moment.
"I fell in love with how glass looked with and without light," she said.
But her hobby became something more when she bought her first kiln. She began experimenting with fusing glass, creating art that reflected natural elements, such as flickering fire and glistening water. It was not long before she started to replicate attributes of her favorite place in the world: Yellowstone.
Yellowstone in her back yard
Kathy and her family had lived in the Dallas-Fort Worth area for several years when they realized they needed to escape big-city living. When envisioning where they could experience a slower pace, surrounded by nature, they realized they couldn't land anywhere but Yellowstone country. They moved to Bozeman in 2009, and Kathy officially launched her glass art business.
"I just wanted my focus to be on glass artwork when I moved to Montana," she said. "Yellowstone is my backyard now, and it's so inspiring."
There, Kathy experienced more and more Yellowstone moments. She remembers helping her children with their geology homework, studying the caldera, volcanic activity, and the cracks and fissures hot lava creates – just like the ones she avoids when working with glass. They read about chemical reactions fueled by heat, as well as the minerals that create hues in the Yellowstone pools. These lessons influenced what was to become her thermal pool collection.
Then, she experienced something she never thought possible. Yellowstone National Park invited her to showcase her work there.
"It's amazing," Kathy said. "I didn't even dream about it. It just kind of all fell together."
Since 2015, the Lake Hotel and Old Faithful Inn have featured Kathy's work through the Inspired by Yellowstone visiting artist program. She works on artwork outside of the gift shops, telling visitors the stories behind her pieces and how the chemical reactions in her art resemble those taking place in Yellowstone.
"Then the guests get to physically take something home," she said. "Hopefully my art reminds them of their trip to Yellowstone, and they'll maybe come back and keep the park alive."
2020 Detour
The many restrictions imposed on YNP visitors during 2020 was the genesis for Kathy to shift her efforts in a new direction.
Instead of her annual Yellowstone gift shop presentations, a video crew interviewed her for Inspired by Yellowstone, which became a virtual program in 2020. As more people stayed home, many of her customers have requested commissioned pieces. And as she shifts her focus, she continues to build relationships with a client-base she has developed from across the nation – mostly due to Yellowstone.
"That's my core," she said. "It's where my art business really grew. It helped me develop as an artist."
Kathy's work now involves an array of options for clients to collect. They can choose from thermal pools, bowls, plates, platters, and vessels. Customers also collect her lamps, wall hangings, and chandeliers. And most of her pieces have some inspiration from the natural phenomena of Yellowstone National Park.
"It's an amazing place," she said. "Even the architecture in the Old Faithful Inn from the early 1900s – and for me to be a part of that – it pushes me to create something just as impressive."
And we are eager to see what she designs next.
Want to collect Kathy Burk? Find her work in galleries in Augusta, Ennis, Hamilton, Billings, Helena, and Bozeman. Or visit her in Yellowstone next year.