Google's Indexing Problem
by Gillette Vaira
September 26, 2022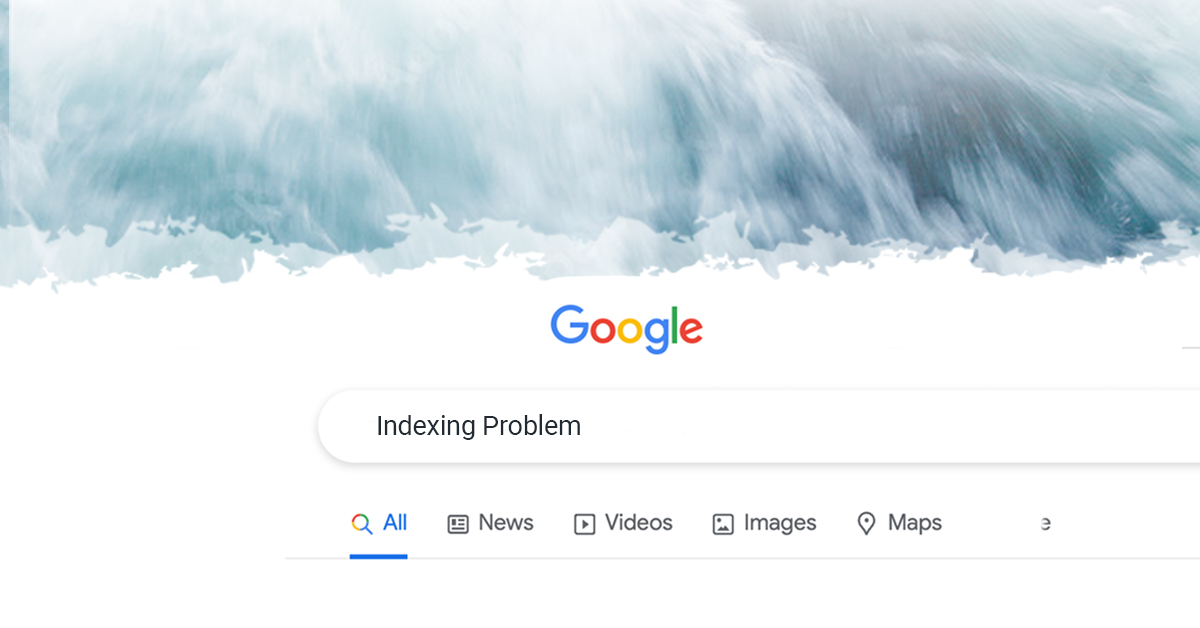 This summer, Google had a problem indexing new content from websites, including large news sites like the Wall Street Journal and New York Times. Before we get into this problem and how it affects you, let's explain SEO indexing in general.
What Is Indexing?
In SEO, indexing is the collection of data from websites on the Internet. This collection of data is what allows a search engine to generate tons of search results in a matter of seconds. To rank high on Google's search engine results pages (SERPs), a website must be INDEXED. What is the difference between indexing and ranking?
Indexing: The Spider's Web
When a website first publishes, it exists, but it's not indexed. You can find that website by entering its exact URL into your browser yes, but the website will not appear as a search engine result. It doesn't get indexed until a SPIDER or CRAWLER or search engine bot lands on one of your web pages.
Yes, this all starts with a spider bite so to speak. These search engine bots crawl the internet and add sites to a search engine's index. As these spiders link web pages, more and more interconnectedness happens. The search engine bot scans your website for new info and adds that to the search engine's index. After indexing sites comes ranking.
Ranking: Pitting Web Pages Against Each Other
Search engines like Google rank websites based on how close, relevant, and helpful a website's content matches a searcher's wording. For example, your website may rank #1 for the question "Did I get bit by a poisonous spider?" and 10th for "How many Spiderman movies does Hollywood make every two years?" Search engines won't know what terms searchers will use and rely on algorithms to rank the web pages on the spot.
News Sites Indexing Problems
So, what's up with the spiders and crawlers not indexing these established news sites? Google confirmed that the indexing problem began on July 15. The problem got fixed, but as of August, Google does not yet know a cause. This can hurt news sites since people rely on "breaking" news stories to be available quickly. If that story is not indexed, then it cannot be found through search engine results pages.
How Does This Affect Me?
Well, indexing works the same with your website. If you add new content to your website, it needs to be indexed before people will be able to find it through search engines. After publishing new content to your website, it can take over a week for Google to even recognize it. If you have issues with your website, Google may never find the new content.
How To Get Google To Index Your Site
If you want to make sure that your new content gets indexed by Google− and ready to start climbing up the rankings ladder−do this using the Google Search Console:
Browse to https://search.google.com/search-console, click on "Start Now" and log in to your Google account. If you have not yet added your website to Google Search Console, do so by clicking on the "Add Property" button to the left, which will appear when you click into the "Search Property" box.
A new box will popup where you can start the verification process of your website. While we do not go over the steps to setup a new site in this article, you can refer to this Google Support article for help. It will look like this:
Step By Step
After your website is initially setup in the Google Search Console, you can (and should) index any new content created on your website.
Copy the full URL to your new page or post and paste it into the "Inspect any URL…" bar at the top of the screen. Google will search its index for that URL. If the URL is not already indexed, you'll see "URL is not on Google".
Add URL To Its Crawler Schedule
In this case, you can click on the "REQUEST INDEXING" link and Google will add the URL to its crawler schedule. You can expect your URL to be indexed by Google within 3-4 days (on average).
You can quickly check if your URL is indexed by searching Google for [site:yourwebsite.com/web-page-slug].
If no results show up, your URL is not yet indexed. However, if you get 1 result and see your page information, then you are good to go, and that new content is indexed!
If indexing isn't your cup of tea, or if you have questions on how to improve the health of your website, contact our SEO experts today!
We're Here For You:
Thank you for placing your trust in Rebel River Creative. Be assured that we work continuously to implement the latest best practices to improve your organic SEO.
If you have any questions about your latest SEO reports or need assistance with improving your content for better search results rankings, get in touch with us today by emailing support@rebelrivercreative.com or giving us a call at 406-702-1557.
About Rebel River Creative
Rebel River Creative is a full-service marketing agency located in Billings, Montana. Launched in 2016, the Rebels offer digital, marketing, branding, and visual arts services. Learn more here or contact us for details.