Your Work Space + Your Brand
by Gillette Vaira
March 20, 2023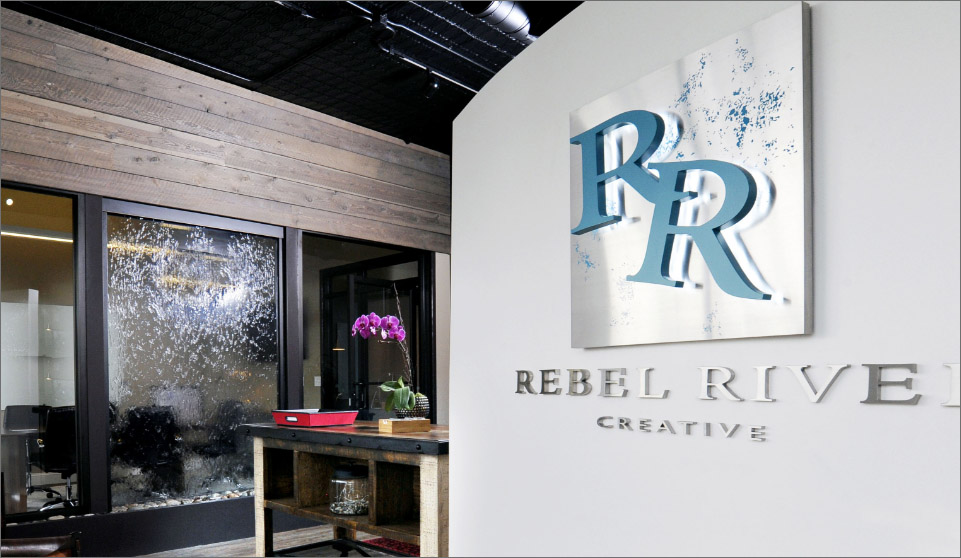 Your Work Space + Your Brand
Your physical work space not only inspires your work – but it inspires your brand, too. Your brand doesn't stop with your logo, tagline, and graphic design. Everything in your environment should reflect your culture – and your purpose. From the visuals to the sounds – and even the scents and general surroundings – the sensory experience should build upon your brand.
The Sights
At Rebel River Creative, our tagline is, "Where Imagination Flows." We always have creativity flowing in the studio – and a waterfall that drapes down the glass conference room wall reflects this. It creates a soothing background sound, as well, which leads to the next sense that can accentuate your brand experience.
The Sounds
Do you have an upbeat setting with lots of foot traffic – or a calming atmosphere with a slower pace? Music or other audio sensory expression can integrate and elevate the experience. For example, spas often use New Age music to create a sense of relaxation, while restaurants use music to amp the dining experience: classic, country western, pop, techno, jazz. One caveat – watch the volume. Some guests gripe about not being able to visit over the tunes.
The Scents
Remember Abercrombie & Fitch? Associates were required to spray the air freshener every 15 minutes to keep the branded scent top-of-nostrils. "Signature smells" are a real thing, and some even earn the coveted distinction of becoming a demand product taken home by consumers. In our global economy, scent marketing has become more in demand, as well. Companies like ScentAir are helping organizations manage their fragrances.
The Surroundings
Modern Chic. Rustic Charm. Vintage Vibe. Earthy Elements. Look around your space. Do the materials and décor represent your brand? Be honest. An environment that doesn't align with your brand can be a jarring disconnect for the customer. If yours is less than spot on, it's time to take action.
Which sights, sounds, scents, and surrounds inform your brand? Think about the experience you want to create for customers and your staff. Be creative when using sensory experiences to describe who you are as a brand – without having to say a word. We promise, that extra effort will be noticed, and you might even learn something about your brand in the process.
about rebel river creative
Rebel River Creative is a full-service marketing agency located in Billings, Montana. Launched in 2016, the Rebels offer digital, marketing, branding, and visual arts services. Learn more here or contact us for details. View more of our work here.