Five Ways to Engage Your Audience During a Virtual Event
by Gillette Vaira
May 28, 2021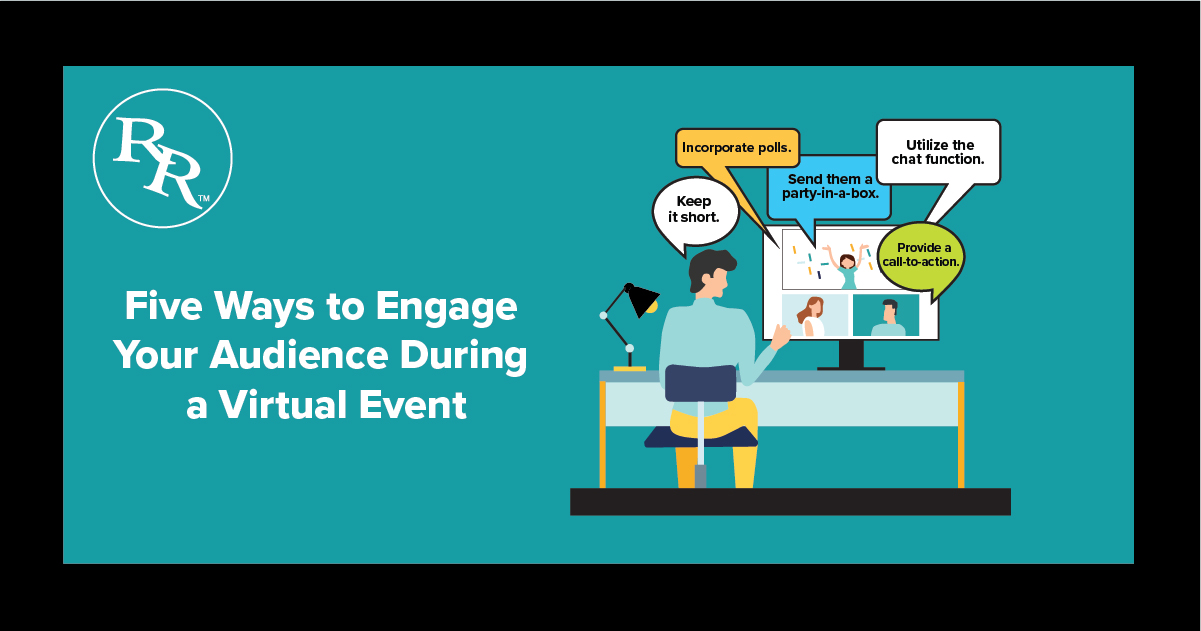 It's one thing to leave an in-person event – by physically getting up, walking out, and shutting a door – with all eyes on you. Can we say awkward? In 2021, we all know how easy it is to leave a virtual event. With just one click, we're out and done. And most likely, no one will ever know you left! (That is, except for the event planner who is tracking attendance.)
If you are planning a virtual event, how do you get attendees to want to stay? The key is engagement – and providing value. Consider a few tips we have compiled to help you engage your audience virtually.
Incorporate polls.

Let your audience's voices be heard – virtually. Ask them fun and simple questions to get the conversation started, such as, "Have you ever participated in a virtual event before?" Or, ask them to submit a word for a word cloud poll, such as "When you think of our organization, what's the first word that comes to mind?" These can be extremely powerful and inspiring opportunities to bond your audience and help them feel connected to your organization.

Utilize the chat function.


Ask attendees to introduce themselves, share why they are at the event, and maybe even participate in trivia throughout the event. Open it up to questions through the chat. Answer as you go or save the Q and A for a designated time toward the end of the presentation.

Provide a call-to-action.


Create a way for participants to be involved outside of the event. This could be using your event hashtag, donating to your cause, or writing a review. Reinforce it during the event, but also follow-up by email and even mail after the event. Be sure to thank them for participating and remind them that their involvement is paramount.

Send them a party-in-a-box.


This could include branded party favors or something as simple as a scarf or sticker to wear during – or after – the event. Or use the poll and chat functions to create a game environment – and then provide prizes to the winners! This could be e-gift cards – or something you mail to the winners after the event.

Keep it short.


Write your event script to be interactive, entertaining, and short – and your retention rate will prove that it was worth it.
Consider getting some help with your event script from the Rebels. We have a team of detail-oriented writers who can help you shine at your important gathering.