Five Signs You Need a New Website
by Gillette Vaira
January 22, 2021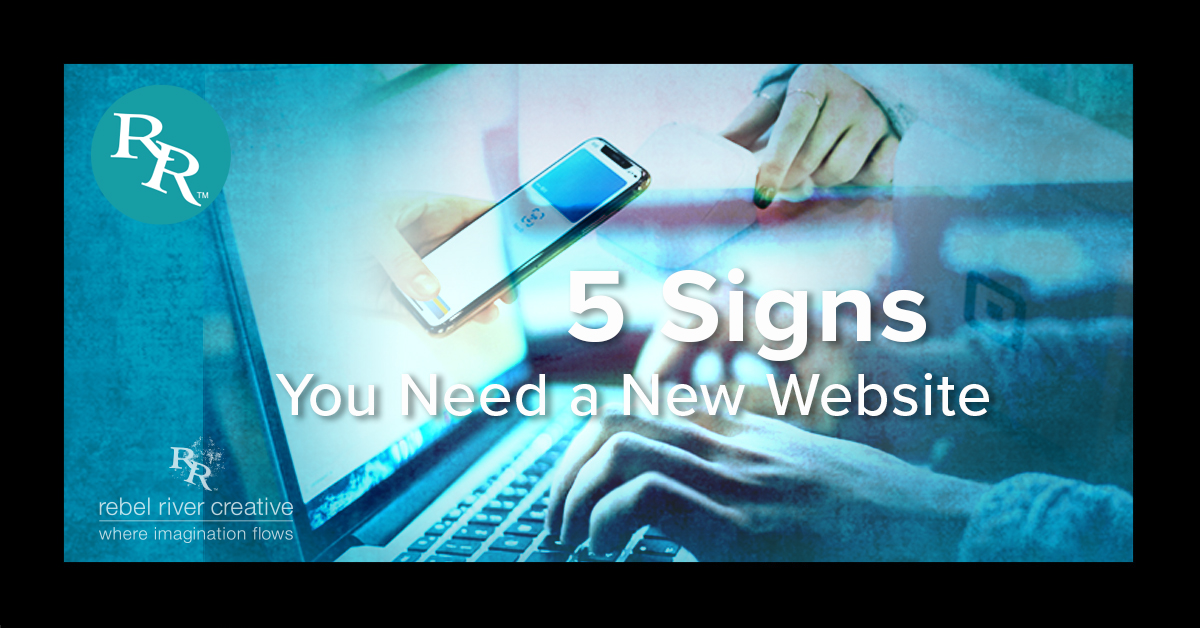 Having a fresh website in our fast-paced, digitally-driven world has become absolutely vital. Is 2021 your year for an upgrade? If you answer "yes" to any of the following questions, it may be. And you know who to contact when it comes to website rebuilds and refreshes. (Hint: We call ourselves the Rebels.)
1. Is your website more than three years old?
Maybe your page load speed is slower than it used to be – or the look just feels outdated. If your website has aged, your approach to Search Engine Optimization (SEO) most likely needs freshening up, too. No matter the case, the status of your website reflects your entire brand and the user experience. A modern, up-to-date website is one of the most important investments a company can make.
2. Is it difficult for your customers to easily contact you?
In 2020, the traditional brick and mortar storefront became transformed by COVID-19 shutdowns across the nation. This changed how we do business, as well as how consumers shop and engage with brands. This experience only reinforced that having a quality website is more important now than ever before. If your customers are having a difficult time reaching you, then your website may need a refresh. We are talking about a clearly navigable call-to-action so there is no mistake as to how your target audience can get in touch with you.
3. Are you relying on a web developer to update all your content?
You should not have to depend on a third party to make every website change for you. If you are updating simple items – like blog posts, name changes, or pictures – that is something we empower you to do. And you do not need to be a coding wiz to do it. We create customized websites that are easy for our clients to update on their own through WordPress. We train you – and we stay available if any questions pop up. And if you absolutely do not want to update the content on your own, we always have a team ready and able to help.
4. Does your site look and work better on a desktop than on a mobile device?
More than 60 percent of people around the world are accessing the Internet through a mobile device. That means most people will see your website for the first time on-the-go – not on a desktop. If your website has hiccups in the mobile version, you could be losing customers.
At Rebel River Creative, we build websites mobile-first, which means they are designed for users on mobile devices. You see, people interact differently on mobile devices than they do on desktop computers. Bigger buttons, more space between clickable links, and other chubby thumb-proof techniques are all a part of mobile-first designs. Plus, mobile-first designed websites load faster and more positively impact your SEO.
5. Is your conversion rate low?
One of the main purposes of a website should be to capture leads and drive conversions – and in some cases – close sales on the spot. And this has recently become even more important. More than 50 percentof people across the globe are making transactions online now, compared to the pre-pandemic era.
Is your website difficult to navigate? Is your website lacking in the e-commerce department? Are website visitors simply unable to find where to go to make a transaction? If so, it is time to make it easy for customers to conduct business with you digitally. We can help you showcase your brand and drive business – all with one simple and memorable website.
Updating a website is an exciting opportunity to reshape how you tell your brand's story. As you look at a website refresh – or rebuild – keep in mind the necessity of owning your own website, as well. And remember, this process does not have to be overwhelming! Let the pros at Rebel River Creative handle the details for you.
Ready for a website refresh – or a major rebuild? Let's have a cup of coffee together – virtually or in person – and we'll strategize a plan that works best for you.