Three ways to market your business with a $0 budget
by Gillette Vaira
July 13, 2020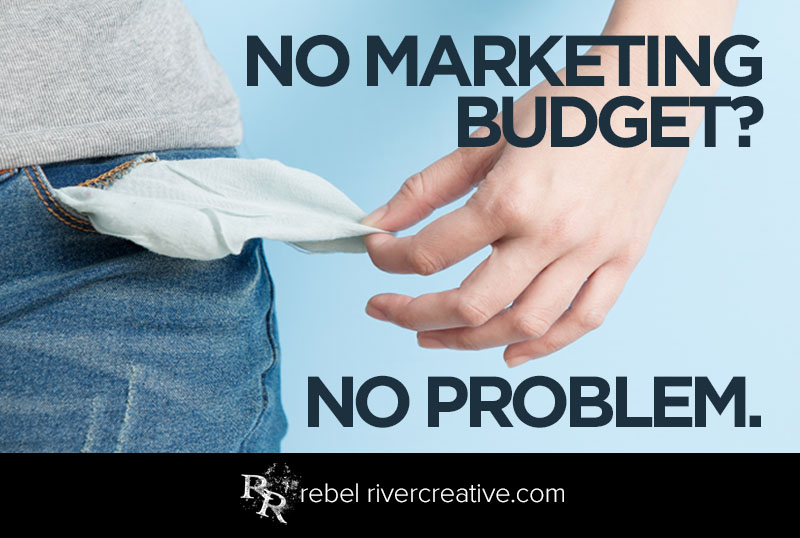 Gillette Vaira, Content/Social Media Strategist
At Rebel River Creative, our team has decades of experience in marketing communications. There's a lot to learn and the landscape is constantly changing, so we thought it would be helpful to share some tips with other businesses – particularly small businesses – to help you grow momentum without breaking the bank.
Check out three free ways to get in front of your target audience.
Create a contest.
Use social media to create a contest that encourages followers to like, share, or comment. Or consider having a drawing for a prize at an event – and collect contact information. Whatever the contest format, dangle an exciting prize!
For instance, you may be a restaurant owner who can provide a dinner for two. Or do you have some sweet swag stocked away? Think of what you already have on hand and use that as the prize. While people go crazy over the possibility of getting freebies – they will engage with your post. You'll get more followers, become more visible, and gain credibility.
Don't forget to promote the heck out of the winners after the contest is done. Feature them on your social media channels enjoying their prize. Tag them in the post. And thank them – and everyone else – for participating.
Pursue guest blogging.
First, if you don't have a blog on your website, you need one. This is how you offer relevant content to your audience – and improve your SEO. But that's an entirely different article!
Once you have a blog, invite guests or customers to write for it. They'll love the opportunity to raise awareness for their business or cause. This type of cross-promotion is priceless. And maybe they'll invite you to be a guest on their blog or podcast in the future.
Also, look for blogs for which you can be a writer. Provide them with free, quality content. Plug your business or not – but sincerely deliver thoughtful information that will help people in your industry. It reinforces your value, but your name and business will also be visible (and clickable).
Offer an e-newsletter.
Whether it's a weekly, monthly, or quarterly publication, an e-newsletter is a great relationship-builder and an excellent way to build a list of contacts. And it doesn't have to take all day to put it together if you re-purpose content, such as linking to blog posts you've already written or featuring the winners of your latest contest.
Trust us when we recommend not always using the newsletter to sell. Instead, use it to educate and inform. Give them a glimpse into your team. Help them feel like they're a part of the conversation. Think of the 25/75 rule, which is devoting 25 percent of content on soft sales and 75 percent on quality, usable content that provides value. Use this as an opportunity to build credibility, knowledge, and trust. Then, when your contacts are ready for your product or service, they'll know where to go.
While having some marketing spend available will help you target your audience more efficiently, marketing your business doesn't have to cost a thing. Try incorporating a contest, blog, or e-newsletter into your strategy, and be sure to track the outcomes. Who knows? It could be the best money you never had to spend!
Looking for other friendly marketing advice? Stay tuned! (Or – think about subscribing to this blog!) We regularly share free, thoughtful, and (hopefully) useful ideas to help you become – or stay – marketing savvy. After all, that's our business!