Rebel River Creative Wins 2023 dotCOMM Awards
by Gillette Vaira
November 2, 2023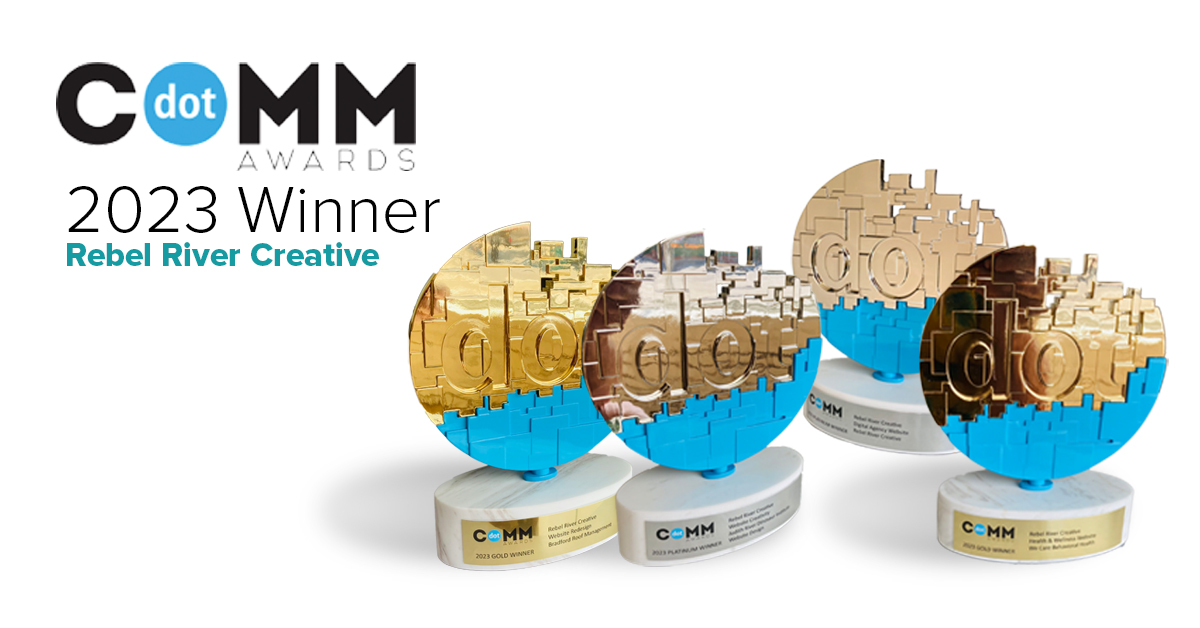 Rebel River Creative Wins dotCOMM Awards
We are honored to collaborate with amazing clients – like you – to be able to create award winning work.
Recently, we received recognition in the international dotCOMM Awards competition, which honors excellence in web creativity and digital communication. We are pleased to share this recognition with you.
Deep within the badlands of Montana, you'll find folks from Judith River Dinosaur Institute uncovering specimens that have not seen the light of day in millions of years. While they specialize in prehistoric, they came to us in need of a modern website. As we dug into their story, a powerful new brandmark began to take shape. The rest, as they say, is history.
A fourth-generation family enterprise, Bradford Roof Management wanted a new website that conveys their position as a national leader in roof management and roofing technologies. The project included developing a name and brand mark for their proprietary roof management software program – RoofIntel©.
We Care Behavioral Health desired a modern website that was comprehensive, personalized, and compassionate – just like their team of mental health professionals. Together, the new website along with a fresh brand mark evoke the essence of their brand – compassion and empathy.
Websites are never 'one-and-done,' and that includes our own. The newly launched rebelrivercreative.com site received a platinum award in the agency category. We are deeply honored to receive this recognition among international peers.
does your business need a new website?
An engaging website plays a powerful role in your overall marketing strategy. But most businesses aren't sure when a redesign is necessary. We recommend a full website audit every year and a redesign every 3 to 5 years.
Some obvious indications that a website should be redesigned include lack of mobile optimization, a dated look, poor user experience, no analytics. Other considerations include audience engagement, ability to collect visitor data, clear calls-to-action, and lead generation.
If you're wondering about the quality of your website, we can help.
Connect with us to talk about your website.
about rebel river creative
Rebel River Creative is a full service marketing, digital, branding, and visual arts studio. Our experienced team of strategists, designers, writers and visual artists are experts at creating powerful website experiences.